© Photo courtesy of The Dallas Opera | AT&T Performing Arts Center | Dallas, TX
OPERA REVIEWS
Opera reviews, attendance tips, first-timer guides, and calls for 'extras' by Sherri Tilley.
Sherri What a beautifully written article. Thank you very much for sharing it with me.
Frank Ticheli, Conductor/Composer
FEATURED ARTICLES
Review of The Dallas Opera: La Traviata
If you've been waiting for a truly great classic opera with talented performers, passionate romance, soundtrack-worthy music, period costumes, and wildly impressive set design, this is it.
Review of The Dallas Opera: Die tote Stadt
Intertwined in the exciting themes of this suspenseful psychological thriller is a wonderfully romantic love story told through powerfully passionate music.
Review of The Dallas Opera: Tristan & Isolde
This famous and exceedingly important work by Richard Wagner was influenced by the philosophy that man is continually driven by unachievable desires.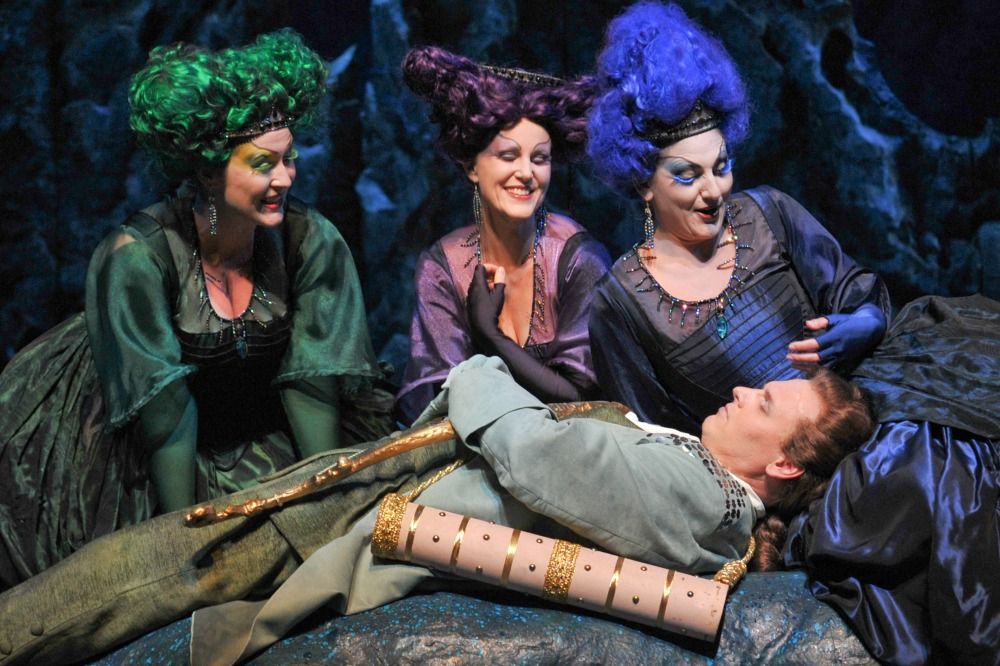 Review of The Dallas Opera: The Magic Flute
Enchantingly delightful,The Magic Flute is like a wacky mixture of The Wizard of Oz, The Nutcracker, Shrek, and Sid and Marty Krofft's HR Pufnstuf.
MORE ARTICLES
Opera Review: The Barber of Seville
03/28/14 | SHERRI TILLEY
This charming season finale production mixes loony behavior and whimsical tunes for an upbeat, on-your-emotional-tiptoes, classic opera.
Opera Review: The Aspern Papers
04/13/13 | SHERRI TILLEY
A group of internationally acclaimed singers?assembled for this contemporary opera that will likely appeal most to enthusiastic lovers of classical music.
Opera Review: Turandot
04/07/13 | SHERRI TILLEY
A thrilling tale of risk and desire incorporating an exciting and suspenseful plotline, exotic Chinese melodies, and elaborate set designs for each of its three acts.
Opera Review: Aida on Season Opening Night
10/27/12 | SHERRI TILLEY
Her solo had the audience mesmerized; and like a praiseworthy evangelist, Latonia Moore will surely convert a new generation of opera lovers to the classic art form.
Opera Review: Lucia di Lammermoor
10/22/11 | SHERRI TILLEY
From the heights of love to the depths of madness, this bel canto masterpiece recounts a stirring tale of lies and loss - Romeo and Juliet style.
Venue Insights: The Dallas Opera
04/26/11 | SHERRI TILLEY
An exhilarating showcase of ornate costuming, elaborate scenery, dramatic singing actors, and racy plots about life, death, sex, political intrigue, mistaken identities, and more.
Opera Review: Boris Godunov
04/01/11 | SHERRI TILLEY
Boris Godunov is opera caviar. A discriminating audience will appreciate this dramatic, historical account of a Russian tsar who rises and falls amidst the country's political upheaval.
Opera Review: Rigoletto
03/26/11 | SHERRI TILLEY
The Dallas Opera's Rigoletto is a roller coaster of emotions that we wanted to ride over and over and over. It's soul-grabbing and gut-wrenching and laugh-out-loud funny.
Opera Review: Romeo & Juliet
02/11/11 | SHERRI TILLEY
From duel to dagger, Romeo & Juliet delivers just what you would expect from an opera: a timeless, classic tale of love and loss along with suspense and drama.
Opera Review: Anna Bolena
10/30/10 | SHERRI TILLEY
The second production in the Dangerous Desires series is this lyric tragedy exposing the drama-infused final days of the second wife of England's King Henry VIII.