© Photo by Scott Tilley | Sherri Tilley | Rio Bravo Motocross Park | Houston, TX
AUTOMOTIVE NEWS
Car reviews, auto news, car show updates, and motorsports coverage written by Sherri Tilley.
Awesome! By the way, EVERYBODY loved the article and photo
from the Lincoln communications team ... lots of positive comments!
Rob Beaird, Direct Impact for Lincoln Motor Company
FEATURED ARTICLES
5 Reasons Every Girl NEEDS a Rolls-Royce Ghost
From its classic features to its fashion-forward style, this luxury motor car from Goodwood, England, is a supermodel of refined elegance.
Riding Like a Rock Star in the New Lincoln Continental
Elegant design, serene interior, and effortless power add Calgon-take-me-away style to the brand's elegant portfolio.
Chrysler Pacifica Offers Grown-Up Features for Kid in You
Advanced features demonstrate that this family minivan doesn't toy around with working hard so that you can stay focused on playing hard.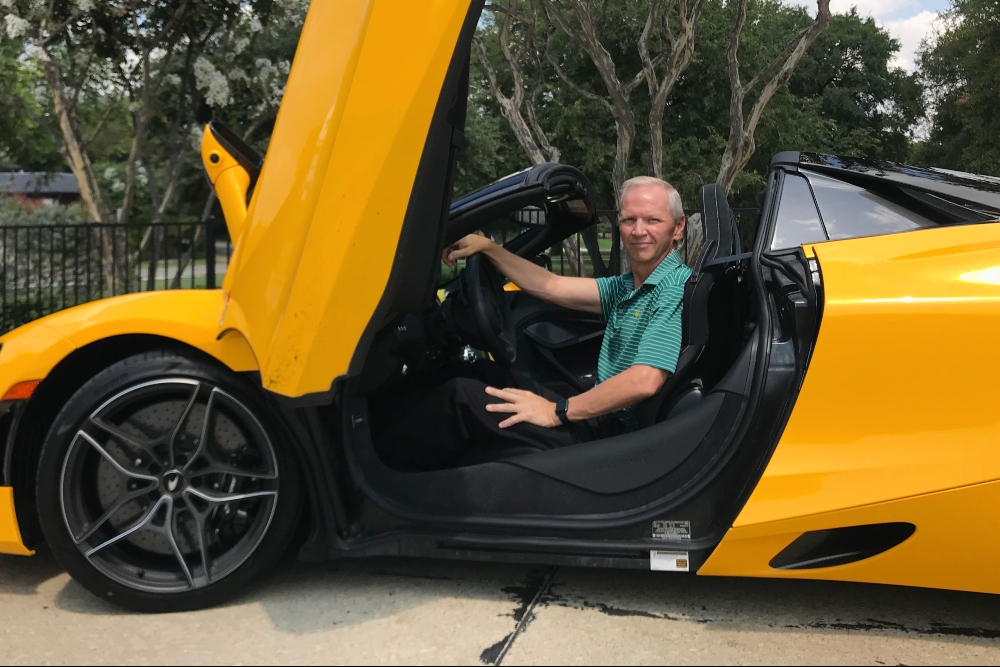 An Off-Road Adventure in the Toyota Tacoma TRD 4x4
C'mon, let's go places ... like perhaps on an off-road adventure with Mike Sweers, the chief engineer for both the Toyota Tacoma and Tundra.
MORE ARTICLES
16 Sexy Snapshots (and Video) of the New 2021 Toyota GR Supra
7/1/20 | SHERRI TILLEY
With more grades, more engines, and more power, the upgraded performance coupe seductively beckons: How do you like it?
3 Ways to Fit Your Family Into the 2020 Lexus RX 450hL AWD
7/1/20 | SHERRI TILLEY
Customizable configurations and available premium packages make for easy tailoring of the versatile luxury crossover.
The 2020 Hyundai Sonata Engages All the Senses
6/21/20 | SHERRI TILLEY
With new ways to see traffic and feel the road, the mid-size sedan offers a fully-immersive driving experience.
Toyota and JBL: Sounds Good to Me
6/8/20 | SHERRI TILLEY
Get your motor running and head out on the highway in one of Toyota's new vehicles equipped with remarkable JBL audio.
10 Techie Touches of the 2020 Volvo S60
6/7/20 | SHERRI TILLEY
The beautifully-tailored sedan offers a wealth of technology features like device connectivity, premium sound, and innovative driver assistance.
2020 Mazda6: The Shape of Things
6/1/20 | SHERRI TILLEY
The combination of attractive shape, rich color, and complex texture successfully achieves mature elegance.
The Newly-Redesigned 2020 Genesis G90 is a Work of Art
5/27/20 | SHERRI TILLEY
Changes to the interior and exterior enhance the flagship sedan and introduce the next evolution of signature design language.
Completely-Renewed 2020 Hyundai Sonata Hybrid Soaks up the Sun
4/23/20 | SHERRI TILLEY
Equipped with a new solar-panel roof system to increase driving range, Sonata is literally catching some rays.
2019 Ford Transit Connect Helps Take Business Ventures to the Next Level
10/25/19 | SHERRI TILLEY
Whether you're hauling people or products, this versatile cargo van or passenger wagon can help you get the job done.
2019 Ford Ranger: Strong Enough for a Man, Manageable Enough for a Woman
10/18/19 | SHERRI TILLEY
Fully capable and family friendly, the mid-sized truck offers a variety of nuances well-suited for petite females.
5 Fancy Finishes of the 2020 Volvo XC90 T8 Inscription
10/7/19 | SHERRI TILLEY
The meticulously-appointed bells and whistles of this contemporary SUV will engage your mind as well as your senses.
3 More Reasons to Love the 2019 Mazda MX-5 Miata
9/9/19 | SHERRI TILLEY
A trio of newly-upgraded features gives Miata fans more to appreciate about the flagship roadster.
2019 Mazda3 Puts HeART and Soul into Motion
8/13/19 | SHERRI TILLEY
KODO design language breathes new life into the all-new premium compact car.
2019 Kia Stinger: A Whole Rack of Exotic Flavors
7/29/19 | SHERRI TILLEY
The compact executive sedan can be aptly described using nicknames from the all-female band Spice Girls.
16 Sexy Snapshots of the All-New 2020 Toyota GR Supra
7/21/19 | SHERRI TILLEY
Proudly unapologetic, the sleek and stylish Supra offers quick exhilarating power, command-ready precision, and nimble agility.
Beetle Mania and the Summers of Lovin'
5/27/19 | SHERRI TILLEY
As 2019 becomes the last year of production for Volkswagen's iconic compact car, we reluctantly have to say #ByeByeBeetle.
Three Automotive Expressions of the 2019 Volkswagen Atlas
5/20/19 | SHERRI TILLEY
Whether you're a modern forward thinker, an active family organizer, or weekend trail blazer, Atlas has benefits for you.
2019 Ford F-150 Limited Brings Power, Luxury, and Technology to the Truck Market
4/25/19 | SHERRI TILLEY
Whether designated as a weekday workhorse or for weekend horseplay, Limited raises the bar for premium pickup trucks.
Ford and Sam Pack's Ford Host 55th Anniversary Celebration of the Beloved Mustang
4/24/19 | SHERRI TILLEY
Members of the North Texas Mustang Club and local automotive enthusiasts gathered at the dealership for a celebratory come-and-go-party.
Appealing Aspects of the 2019 Toyota Corolla 5-Door Hatchback for the Millennial Market
2/25/19 | SHERRI TILLEY
The 20-and-30-somethings are quickly becoming the largest and most influential demographic group in the United States.
5 Just-Right Features of the 2019 Jeep Cherokee Latitude Plus 4x4
2/10/19 | SHERRI TILLEY
Taking a cue from Goldilocks, here are five aspects of the new Jeep Cherokee that are tailored to fit in a way that is juuust right.
Responsibility and Innovation: Driving Forces to Propel the 2019 Volkswagen Jetta
1/28/19 | SHERRI TILLEY
Volkswagen is committed to furthering the development of attractive, connected, and intelligent vehicles.
2019 Ford Ranger: An American Favorite is Being Reinvented
12/21/18 | SHERRI TILLEY
After an eight-year hiatus, the all-new Ford Ranger is returning to American roads with a fully modernized design.
Whether Prepster or Sporto, Nissan Has a Rogue for You
8/26/18 | SHERRI TILLEY
Although the 2018 Rogue and Rogue Sport share a name and key features, the models are unique in their own rights.
What is Toyota New Global Architecture (TNGA)?
8/6/18 | SHERRI TILLEY
TNGA is the manifestation of Toyota's mission to push the boundaries of automotive-related technology and innovation.
7 Key Features of the All-New 2018 Mitsubishi Eclipse Cross
7/17/18 | SHERRI TILLEY
Vibrant and defiant, this sporty compact crossover SUV comprises seven features new to the Mitsubishi brand.
Va-Va-Vroom: The 2019 Toyota Avalon Gets an Attractive New Interior
7/11/18 | SHERRI TILLEY
This sophisticated technical beauty invites you to slip into something more comfortable.
Mazda CX-3's Got Your Back ... and Your Front and Sides Too
7/8/18 | SHERRI TILLEY
Mazda's award-winning subcompact crossover SUV is athletically attractive and safety-savvy as well.
What to Expect with the All-New 2019 RAM 1500
6/22/18 | SHERRI TILLEY
RAM's new half-ton truck is setting a benchmark for durability, technology, efficiency, and convenience.
5 Things to Like About the 2018 Toyota Prius Prime
6/12/18 | SHERRI TILLEY
Starting at $27,300 and utilizing the Toyota New Global Architecture (TNGA) design platform, the Prius Prime offers a lot to like.
Detail-Oriented: A Peek Inside the New Toyota Tundra 1794 Edition
6/04/18 | SHERRI TILLEY
The luxurious interior finish out of the 1794 edition is eye-catching, culturally appropriate, and extremely appealing.
The Lexus GS 300 F Sport Has Drive-Up 'Curve' Appeal
6/4/18 | SHERRI TILLEY
Athletically alluring, Lexus' mid-size luxury performance sedan is quite a sweet little package.
2018 Lexus NX 300 F Sport: Coming at You from All Angles
5/22/18 | SHERRI TILLEY
The head-turning style, newly-added standard equipmen,t and available features make the Lexus NX 300 an even better value for the money.
Austin Texas and Hyundai Veloster Elicit an Unabashedly Unique Vibe
5/21/18 | SHERRI TILLEY
Quirky and a little weird maybe, the all-new three-door compact sports car will appeal to urban expressive curators.
Accent Puts Its Mark on the Value Class
5/19/18 | SHERRI TILLEY
Hyundai's 2018 sub-compact car brings affordable practicality at four trim levels.
5 Fantastic Features of the 2018 Lexus RX 350L
5/14/18 | SHERRI TILLEY
Lexus unveils new comfort elements and advanced technology for its now-extended luxury SUV.
2019 Kia Sorento: Fancy Kicks for Your Fancy Pants
5/1/18 | SHERRI TILLEY
Starting at just $25,900, this swanky sport utility vehicle will make you feel like a million bucks.
$170 Million Investment Announced for Toyota Motor Manufacturing MS
4/27/18 | SHERRI TILLEY
The strategy supports Toyota's commitment to invest $10 billion in its U.S. facilities over the next five years.
The First-Ever Hyundai Kona Hits the Market in 2018
4/27/18 | SHERRI TILLEY
Starting at just under $20K, this ruggedly-handsome subcompact is ideal for the spunky little spendthrift.
Updates and Changes Give More Oomph to the 2018 Lexus IS 300
4/27/18 | SHERRI TILLEY
The seductive sports sedan has what you might call some noteworthy new features for the current model year.
2018 Toyota Camry: What's New Pussycat? Whoa!
4/22/18 | SHERRI TILLEY
The vehicle's elegant evocative curves juxtaposed to masculine chiseled surfaces offer a gritty new glamour.
Contemporary Mitsubishi Outlander GT is Easy on the Eyes and Mind
4/22/18 | SHERRI TILLEY
Poised to help you achieve the goal of gracefully dialing down is the contemporary interior of the new 2018 Mitsubishi Outlander.
2018 Infiniti QX80 Offers Room with a View
3/27/18 | SHERRI TILLEY
Promoting a sophisticated sense of inclusive luxury, the brand's powerful full-size SUV provides upscale ambience.
New Aston Martin Vantage Offers Unmistakable Road Presence
1/24/18 | SHERRI TILLEY
The hand-built British sports car will be available in the United States this summer as a model year 2019.
Custom-Tailored Features of the 2017 Lincoln MKZ Fit Like a Glove
8/24/17 | SHERRI TILLEY
The upscale brand stays true to its distinguished clientele by offering quiet luxury and elevated privileges.
Gadgets Galore Adorn the Ruggedly Handsome TRD Off-Road
7/26/17 | SHERRI TILLEY
The 2017 Toyota 4Runner offers sufficient capability for a wide array of camping, climbing, and carpooling needs.
Toyota Highlander Helps Millennials Cross Over Into Luxury Territory
6/19/17 | SHERRI TILLEY
Carefully-curated features appeal to the burgeoning demographic currently bounding onto the auto-industry scene.
Dog-Friendly Features of the 2017 Lexus NX
6/19/17 | SHERRI TILLEY
The stylish luxury crossover provides an assortment of creature comforts for a variety of creatures.
A Scenic Drive along El Camino Real de los Tejas in the Lexus ES 350
5/5/17 | SHERRI TILLEY
Venture back in time as we drive this forward-thinking luxury sedan along a centuries-old travel and trade route.
The Eye-Catching 2017 Lexus RC F is Indeed a Work of Art
4/22/17 | SHERRI TILLEY
Museum-quality sculpting paired with a powerful V8 engine will ignite your passion for performance.
Safety Comes with a Price ... but You Won't be Paying Extra for It
4/17/17 | SHERRI TILLEY
Toyota has equipped all 2017 RAV4s with a comprehensive safety package that comes standard on LE, XLE, SE, Limited, and Platinum.
Take a Peek at the Sexiest Cars of the 2017 Houston Auto Show
4/7/17 | SHERRI TILLEY
For adrenaline-inducing high-performance cars or high-end luxury eye candy, here's a sneak peek at ten of the most drool-worthy cars.
The Versatile Lexus GS F Adapts from Country Club to Countryside
3/31/17 | SHERRI TILLEY
This luxury sports sedan offers elegance and speed for the stylishly high-heeled and seriously lead-footed.
RAM Trucks Help Demonstrate That Everything's Bling-ier in Texas
3/28/17 | SHERRI TILLEY
The brand's best-selling model in Texas now brings even more premium upgrades exclusively to buyers in the Lone Star State.
Ford Reveals All-New Expedition at Dallas Cowboys Training Facility
2/07/17 | SHERRI TILLEY
With 40 new features and technologies, the vehicle is the smartest, most capable, most adaptable Expedition ever built.
The New Lexus ES 300h Offers a Sound Proposition
1/18/17 | SHERRI TILLEY
The tranquil cabin of this elegant sedan offers noise-reducing components and pleasantly-agreeable tones which are like music to the ears.
Lexus RX Interior Design: A Hands-On Experience
10/02/16 | SHERRI TILLEY
Just as impressive on its futuristic inside as it is on its aggressively-sculpted outside, this luxury vehicle maintains remarkable elegance.
MX-5 Fans Sign the Millionth Miata on Its Nationwide Celebration Tour
09/25/16 | SHERRI TILLEY
Roadster enthusiasts got a chance to view the all-new Mazda MX-5 and sign the millionth Miata at a recent celebration tour stop.
Toolin' Around the Fort Worth Cultural District during Nissan's Year of the Truck
09/15/16 | SHERRI TILLEY
With significantly-fresh updates to an artful line of trucks and SUVs, the company showcased its newest vehicles in a beautiful park-like setting.
Take a Peek at the 2017 Nissan GT-R with Titanium Exhaust, Bose Audio System, and Active Noise Cancellation
07/07/16 | SHERRI TILLEY
Starting at $109,990 MSRP, the 2-door 4-seat Nissan GT-R offers 565 horsepower and a new set of refined features both inside and out.
Pearls of Wisdom: A Ladies' Tour of the Deep South Featuring the Toyota Avalon Hybrid Limited
11/01/15 | SHERRI TILLEY
Embarking on a 3,000-mile drive through six southern states, we examined 10 unique aspects of the practical yet elegant Toyota Avalon Hybrid Limited.
Titan Equipped with Diesel Goodness
08/31/15 | SHERRI TILLEY
The all-new 2016 Nissan Titan XD full-size pickup, powered by a Cummins 5.0L V8 turbo diesel engine, brings a new niche segment to the American truck market.
10 Things to Like About the Toyota Camry
06/29/15 | SHERRI TILLEY
The 2015 Toyota Camry XLE offers an array of comfort and convenience options, designer style preferences, safety features, and cutting-edge technology packages.
Maxima Takes Cues from the U.S. Navy's Blue Angels
06/03/15 | SHERRI TILLEY
Nissan's visit to the U.S. Navy's Blue Angels has resulted in a highly distinctive fighter jet inspired luxury design for the brand's 4-door sports car.
Ram Trucks Makes History Setting New Guinness World Record
04/18/15 | SHERRI TILLEY
Ram truck owners helped the Ram Truck brand set a new Guinness World Records title for the largest parade of pickup trucks on Saturday, April 18, 2015.
R&R at a B&B on a Road Trip Adventure to Fredericksburg
02/09/15 | SHERRI TILLEY
C'mon, let's go places ... therapeutic ones. Fredericksburg, Texas, beckons with scenic Hill Country vistas, winery tours, art galleries, shopping, golfing, spas, and more.
Mazda Showcases Latest in KODO Design
1/27/15 | SHERRI TILLEY
Capturing the moment that energy becomes movement, KODO elicits the sensation of sudden acceleration even when the vehicle is at a standstill.
Car Review of the 2015 Lincoln MKZ
11/15/14 | SHERRI TILLEY
The 2015 Lincoln MKZ is a neo-traditional forward-thinking sedan loaded with an abundance of high-tech devices that you just might find alright, alright, alright.