OPERA REVIEWS
Opera reviews, attendance tips, first-timer guides, and calls for 'extras' by Sherri Tilley, publisher of The Flash List entertainment guide. (Photo by Karen Almond.)
FEATURED ARTICLES
Review of The Dallas Opera: La Traviata (The Fallen Woman)
If you've been waiting for a truly great classic opera with talented performers, passionate romance, soundtrack-worthy music, period costumes, and wildly impressive set design, this is it.
Review of The Dallas Opera: Die tote Stadt
Intertwined in the exciting themes of this suspenseful psychological thriller is a wonderfully romantic love story told through powerfully passionate music.
Review of The Dallas Opera: Tristan & Isolde
This famous and exceedingly important work by Richard Wagner was influenced by the philosophy that man is continually driven by unachievable desires.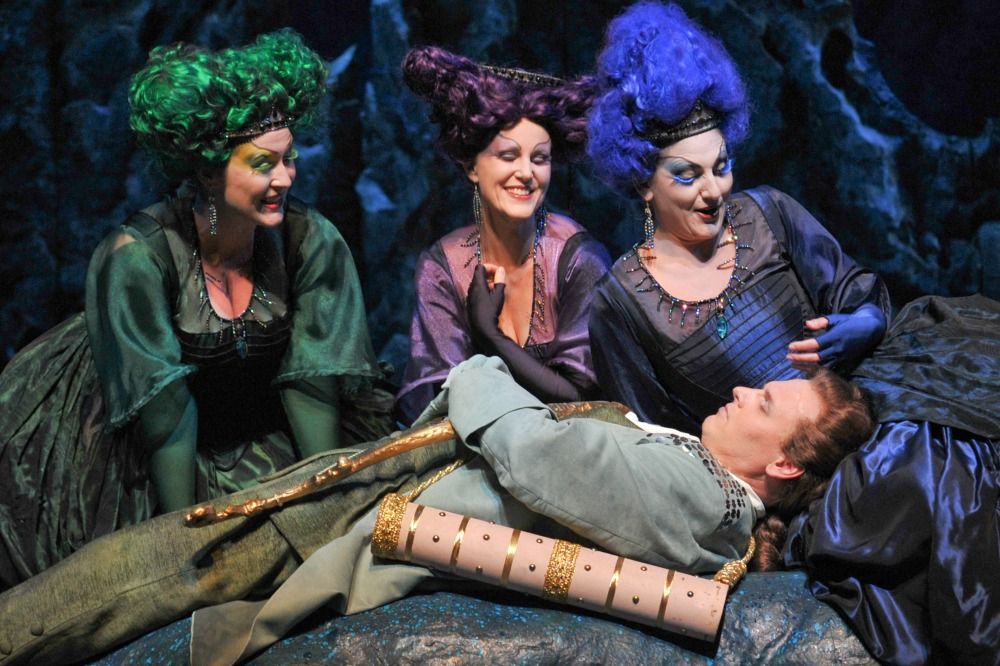 Review of The Dallas Opera: The Magic Flute
Enchantingly delightful,The Magic Flute is like a wacky mixture of The Wizard of Oz, The Nutcracker, Shrek, and Sid and Marty Krofft's HR Pufnstuf.
MORE ARTICLES
Opera Review: The Barber of Seville
03/28/14 | SHERRI TILLEY
This charming season finale production mixes loony behavior and whimsical tunes for an upbeat, on-your-emotional-tiptoes, classic opera.
Opera Review: The Aspern Papers
04/13/13 | SHERRI TILLEY
A group of internationally acclaimed singers?assembled for this contemporary opera that will likely appeal most to enthusiastic lovers of classical music.
Opera Review: Turandot
04/07/13 | SHERRI TILLEY
A thrilling tale of risk and desire incorporating an exciting and suspenseful plotline, exotic Chinese melodies, and elaborate set designs for each of its three acts.
Opera Review: Aida on Season Opening Night
10/27/12 | SHERRI TILLEY
Her solo had the audience mesmerized; and like a praiseworthy evangelist, Latonia Moore will surely convert a new generation of opera lovers to the classic art form.
Opera Review: Lucia di Lammermoor
10/22/11 | SHERRI TILLEY
From the heights of love to the depths of madness, this bel canto masterpiece recounts a stirring tale of lies and loss - Romeo and Juliet style.
Venue Insights: The Dallas Opera
04/26/11 | SHERRI TILLEY
An exhilarating showcase of ornate costuming, elaborate scenery, dramatic singing actors, and racy plots about life, death, sex, political intrigue, mistaken identities, and more.
Opera Review: Boris Godunov
04/01/11 | SHERRI TILLEY
Boris Godunov is opera caviar. A discriminating audience will appreciate this dramatic, historical account of a Russian tsar who rises and falls amidst the country's political upheaval.
Opera Review: Rigoletto
03/26/11 | SHERRI TILLEY
The Dallas Opera's Rigoletto is a roller coaster of emotions that we wanted to ride over and over and over. It's soul-grabbing and gut-wrenching and laugh-out-loud funny.
Opera Review: Romeo & Juliet
02/11/11 | SHERRI TILLEY
From duel to dagger, Romeo & Juliet delivers just what you would expect from an opera: a timeless, classic tale of love and loss along with suspense and drama.
Opera Review: Anna Bolena
10/30/10 | SHERRI TILLEY
The second production in the Dangerous Desires series is this lyric tragedy exposing the drama-infused final days of the second wife of England's King Henry VIII.
READ MORE
Who I Am
Sherri Tilley is a news journalist, publisher of The Flash List, and writer at The Art of Gallivanting.
What I Do
Specializing in news, reviews, and interviews for top entertainment venues and luxury lifestyle brands.
Where I Go
My ever-evolving sense of collective adventure drives me for a wide range of leisure experiences.
Video Footage
Radio segments and promotional video footage taken of, and produced by, Sherri Tilley.
Featured Work
Top stories, featured articles, and photo journalism by Sherri Tilley, publisher of The Flash List.
How to Connect
Feel free to give me a call, drop me a line, send me an email, or connect with me on social media.